Scholarship Winners
---
---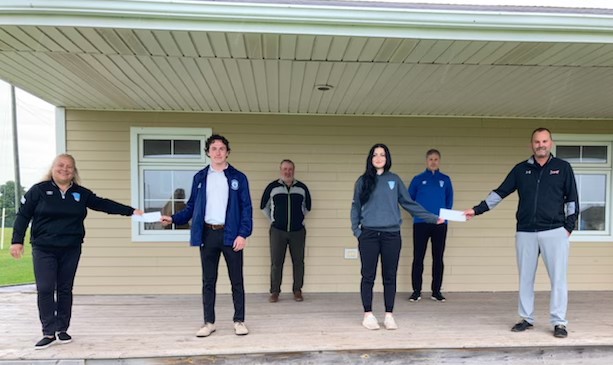 ---
WCRFC is proud to announce our 2021 scholarship winners. Grace Killorn and Andrew Stewart!
Presenting cheques to Grace and Andrew are Juanita Diamond representing the family of Melis Visser and Tyler Honsberger of Capital Honda. Also in the photo are scholarship committee members Brodie McMurrer and John Cunniffe.
Both Grace and Andrew started their soccer careers in the WCRFC mini and youth programs, eventually moving onto the PEI Soccer Provincial Programs and playing with PEIFC during the summer seasons. Both players have represented PEI at National Competitions while playing with the FC teams.
Grace and Andrew continued to be involved with the club while members of PEIFC by coaching in our mini program for a number of summers, as well as helping out at our yearly tournament and helping with summer camps.
Grace will be attending UPEI this fall and Andrew will be at Acadia University.
WCRFC wishes them great success with their studies at university as well as their Varsity soccer careers.
WCRFC offers two scholarships of $750 each year to two deserving players from the club who are attending post secondary schools.
The scholarships are cosponsored by the family of Melis Visser, a long time coach, volunteer and board member with WCRFC and Capital Honda.
WCRFC would like to thank the Visser family and Capital Honda for their generous donations and continued support of the WCRFC scholarship fund.